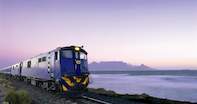 Step aboard the iconic Blue Train and experience a truly luxury South African train journey from Cape Town to Pretoria on the Blue Train.
What to Expect
On this northbound route aboard the Blue Train, you'll make your way through South Africa's ever-changing landscape. This luxury South African train journey will take you from Cape Town to Pretoria, you'll clock in 1600 kilometres (994 miles) over a total of two nights.
While travelling on this five-star hotel (on wheels), you'll also have the opportunity to set foot in the historical town of Kimberley. Once here, you'll get to witness the Big Hole and Diamond Mine Museum, reliving the nostalgia of those early pioneers and merchants who once flocked here to find their fortune.
And while the surrounding scenery is second to none, your time spent aboard the Blue Train is what will make the journey so special. With all its colonial-style charm, this luxury locomotive will have you rubbing shoulders with well-heeled travellers who have particular pertinence for the finer things in life. Think five-course fine dining, 24-hour butler service and sparkling bubbly served on cue.
Train Journey Highlights
2-nights accommodation on board the Blue Train
Blue Train five star-accommodation in private, elegant suites and fine dining
24-hour personalised butler service during your Blue Train journey
The ever-changing panoramas fill out the frames of the windows on this luxury train
All meals for the duration of the trip, including breakfast, lunch, high tea and dinner
A visit to Kimberley's Big Hole and Diamond Museum
Day 1: All Aboard the Train for Pretoria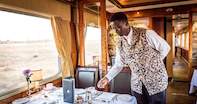 Once you've boarded the Blue Train at Cape Town station, your private butler will help you get settled in. On this first day, you'll be free to explore the carriages. Browse the boutique, or settle down in the Observation Carriage for a leisurely drink. During the day, the dress code is smart casual; however, as per tradition, guests are required to "suit up" during dinner. That said, don't forget something fancy to slip into when the time calls for it.
After your five-course, five-star meal this evening, make your way to the Club Car for yet another tradition of a cognac nightcap paired with a Cuban cigar, if you fancy. Once you return to your private cabin, you'll find it magically transformed from a private lounge, into a bedroom where you can bed down on fine linen and goose-down duvets.
Day 2: See the Big Hole in Kimberley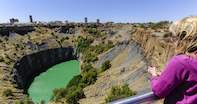 Today's itinerary entails an adventurous stop in the Victorian mining settlement of Kimberley before resuming the onward leg towards Pretoria. This captivating city boasts a unique mining history stretching back to the late 1800s. During your visit, you'll get to witness the Diamond Museum, and the landmark Big Hole which will broaden your perspective of South Africa's intriguing diamond history.
Once you're back on the Blue Train, you're free to enjoy the rest of your journey as you please. A traditional English afternoon High Tea will be served in the Lounge Car, where you can make the most of the passing views. What you'll appreciate most about travelling by train is how each time you glance out the window, a vibrant new scene of the South African landscape awaits you.
Don't get too caught up in the view, however, as you'll still need time to spruce up for dinner this evening. Once again, a sumptuous, silver-spoon dinner awaits, followed by that signature cognac and optional cigar.
Day 3: All Alight for Pretoria Station!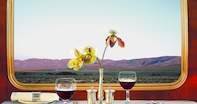 Enjoy the last few hours of your luxury South African train journey before arriving at your destination. The Blue Train will arrive at Pretoria Station during the late morning, where your butler will be on hand to help usher you into the arrival lounge and to gather all of your suitcases.
To make for a seamless post-travel experience, speak to our African Safari Specialists about arranging your transfer to your hotel. Our portfolio of hotels in Pretoria and Johannesburg is quite extensive, and we'll easily find you something that ticks all the right boxes.
But why stop there? We can also add in some local tours and experiences to your itinerary so that you can make the most of your time South Africa. If learning about diamonds wasn't quite enough, this region comes with plenty of its own history, especially the Witwatersrand — the iconic site of the 1886 gold rush.
Your Blue Train Journey Includes
2 nights' accommodation aboard the Blue Train from Cape Town to Pretoria
Brunch, afternoon high tea and formal dinner on day 1 and 2
Breakfast on day 2 and 3
Alcoholic and non-alcoholic drinks (bottled water, soft drinks, wines, beers and spirits)
Snacks and drinks served in your private suite on request
Off-train excursion to visit the Open Mine Museum and Kimberley Hole
Use of train facilities including Club Car and Lounge Car
Personal butler
Complimentary Wi-Fi service
Your Blue Train Journey Excludes
Premium branded drinks (French champagne) and caviar
External phone calls and all other extras to be settled direct
Flight, transfers and optional pre and post accommodation