Cape Town to Pretoria, South Africa Luxury Train Trip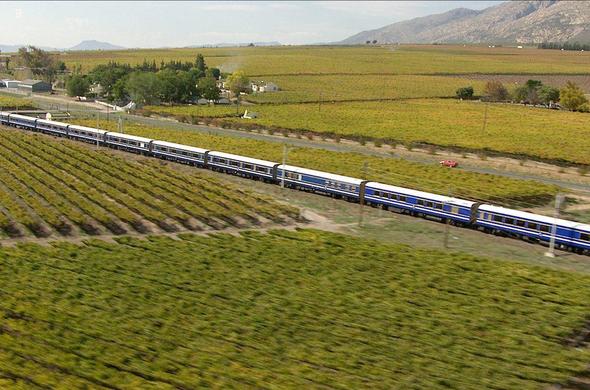 Experience a truly luxurious South African train journey on the Blue Train from Cape Town to Pretoria.
Embark an exciting 1 600 kilometer journey from Cape Town to Pretoria on this luxury train charter accommodation. This luxury train can accommodate up to 80 guests in De Luxe Suites and Luxury Suites. Guests staying in the Luxury suites will have the luxury of their own personal butler and usher. All suites are equipped with complementary WiFi.
Lounge in the convivial place where you can make everlasting friendships and sip a beverage of your choice. The Lounge car is strategically placed in the middle of the train and is the ideal space to admire the breathtaking scenery of the countryside. The ever-changing panoramas fill out the frames of the windows on this luxury train.
Afternoon high teas can be enjoyed in the Lounge Car, as well as five-course dinners and and scrumptious breakfasts. Dinner will meet all your highest expectations. The well-thought out menu will tantalize every palate and meet every dietary requirement. Delight meals prepared from a range of fresh meat and fish including Karoo lamb, ostrich, venison, and oysters. All meals are prepared with the freshest ingredients.
The Blue Train is home to an exclusive boutique where guests can purchase unique items to remember their luxury excursion. This luxury shopping experience will give you exclusivity as the clientele at this boutique is limited to only two per viewing. Items at this exclusive boutique ranges from cufflinks, leather items, jewellery and one-of-a-kind souvenirs.
Day 1: Cape Town to Matjiesfontein, South Africa
At Cape Town station, guests need to register and check-in at the Blue Train Lounge an hour before departure. Here, delicious pre-departure snacks and drinks can be savored in comfort while
luggage is taken care of by the friendly attentive staff
. You will board your train at 8:30am and you will be introduced to your Butler for the journey. Your Butler will usher you on-board and proceed with a Suite orientation before departure.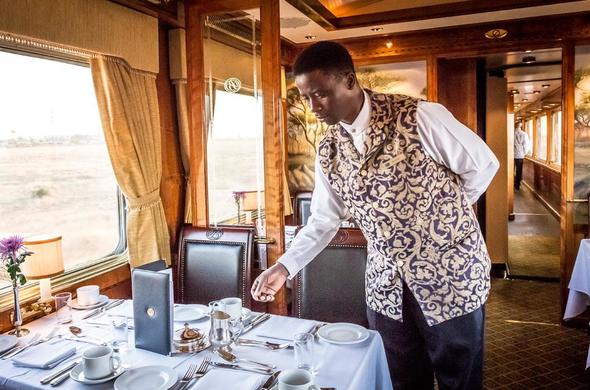 Once you are settled and comfortable, you can relax in your suite or in the Lounge cars, enjoying passing
views of the magnificent Cape Winelands
and spectacular mountain vistas. Later, sit down to a delicious Brunch in the dining car - there are 2 sittings to choose from. The first sitting is from 10:30 - 12:30 and the second from 12:30 - 14h00.
Shortly after the second sitting ends there is a scheduled stop at the historic little town of Matjiesfontein. The village was founded in 1884 and completely restored in 1970 - it is now a
National Historic Monument
. You are invited on a 45 minute off-train excursion and a glass of sherry - the glass is a unique gift to you and a memento of your journey. You can step back in time and soak up the ambiance of the town with its Victorian buildings and original 19th century lampposts before boarding The Blue Train again for your onward journey to Pretoria.
Scrumptious High tea is served
in the elegant Lounge car at 3:30pm. Daily papers are provided to keep you up to date, or you can follow the changing scenery as the Blue Train makes its way through dramatic Karoo landscapes. These endless arid plains ringed by blue mountain ranges and rocky outcrops are a sight to see as you move swiftly past.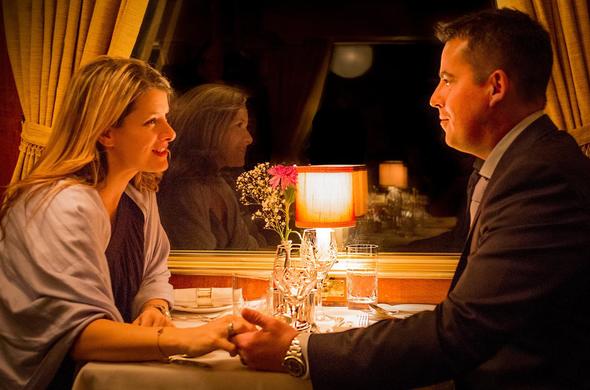 As your first day on the Blue Train draws to a close, you can freshen up in your suite before dinner. The
evening meal is an elegant occasion
- the dress code is traditional evening dress. Gentlemen are required to wear a jacket and tie and ladies, stylish evening wear.
You can meet other fellow travellers for a sundowner in the plush Bar while witnessing enchanting sunset.
Dinner is also served in 2 sittings
in the Dining car. Perhaps a night cap or coffee is in order before retiring for the night to your suite.
Day 2: Pretoria, Gauteng, South Africa
From 7:30 - 10am you can arrange breakfast in your suite or make your way to the Dining car where the morning meal is served on a first come first serve basis. Relax and enjoy a great cup of coffee or tea mid morning as the train approaches the Gauteng province and finally, Pretoria, the Jacaranda City. Disembark at Pretoria Station where
your Butler will escort you
to the Blue Train Lounge.