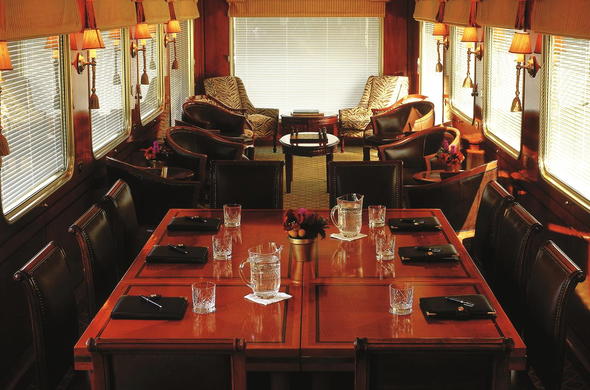 The Blue Train offers luxury train travel in South Africa, and is a five star hotel on the move, the perfect venue for a stunning wedding reception or exclusive company breakaway.
Guests on the Blue Train have personal butlers on call 24 hours a day to see to everything, whilst they enjoy the stunning scenery as it passes by. Opulence and sheer luxury are the hallmarks of the Blue Train, a magnificent setting for a wide
variety of functions and adventures
.
Conferences on the Blue Train
, business meetings or corporate get-togethers take on a polished air where participants can't help but be enthusiastic.
Exclusive dinner parties, VIP breakfasts or lunches on board the Blue Train will linger long in the memories of the guests.
Legendary fresh gourmet cuisine
that caters for food lovers and those with special dietary needs is produced from a gleaming stainless steel custom-designed kitchen which is fully air-conditioned.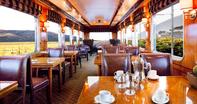 Walk in cool rooms and freezers ensure that the award winning wine list is enhanced by perfectly chilled wines and that delicate hors d'oeuvres are served in optimal conditions. Guests can expect Silver Service traditions, Sheffield cutlery and the finest crystal whilst dining on board the Blue Train.

Charters can also include a safari with a difference or a world class golfing breakaway in sublime countryside. The destination depends only on the compatibility of the Blue Train's technology with the rail network, for fabulous five star adventures.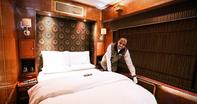 Overnight
guests on the Blue Train
can experience the sheer grandeur of their accommodation which transforms from a splendid lounge to a sumptuous retreat at night with soft lighting, fine custom bedding and plump duvets.T he en-suite bathrooms have marble and gold features and some have deep baths for dreamy bath-time bliss. Each Blue Train suite has movie and radio channels. The
Blue Train Luxury Suites
have an entertainment centre with a CD and DVD selection. Guests can relax in individually controlled air-conditioned comfort or stay cosy with under floor heating on chilly nights.
Events hosted on the Blue Train include:
Wedding receptions and VIP functions
Exclusive breakfasts, lunches and dinner parties
Product launches
Meetings and small conferences
Business events