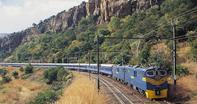 This is an absolutely stunning train tour from Pretoria to Cape Town.
Your journey begins in Pretoria, you will embark on an excursion beyond your wildest imagination as your 1 600 kilometers stretches to Cape Town. You will stop in Kimberley on your first day of your tour for a visit to the Open Mine Museum.
Day 1: Pretoria to Kimberly, South Africa
Register and check-in at the Blue Train lounge at Pretoria Station, and enjoy delicious pre-departure snacks and drinks. You will board your flight and your butler will usher you to your suite. Suite orientation are done by the butlers. From there, lunch is served and later high tea can be enjoyed in the luxurious Lounge Car.
The Blue Train arrives at Kimberley station. Guests disembark and assemble at the railway museum from where they will be ushered to the bus, which will take them to the centre of Kimberley to join an old tram for a ride down to the mine.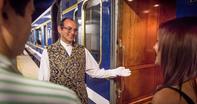 You will arrive at the Open Mine Museum in Kimberley, for a tour of the mine. You will be escorted to the Diamond Die to try your luck to win a diamond, after which you will see several interesting and historical sites as well as taken onto an enclosed ramp on the edge of the Kimberly hole.

Depart from the Open Mine Museum for Kimberley station, where you will be welcomed with a glass of sherry. The Blue Train departs Kimberley station for Cape Town. After this exciting tour, freshen up and enjoy pre-dinner drinks served at any one of the lounges.

Remember, dinner is an elegant affair and men are requested to wear a jacket and tie or dress in traditional attire and ladies in elegant evening or traditional wear. Please note that there are 2 sittings for lunch and dinner. Experience fine dining at its best by delighting an array of delicious dishes during your five-course dinner.
Day 2: Cape Town, Western Cape, South Africa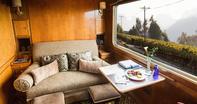 Breakfast is served on a first come first serve basis. Otherwise breakfast is served in-suite at the guests' request. The Blue Train arrives at Cape Town station. From there butlers will escort you to the comfort of the Station Lounge.