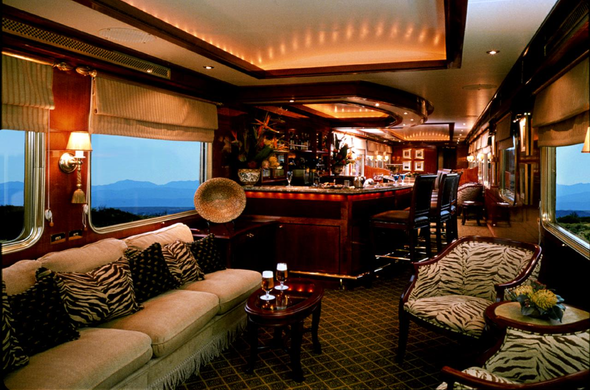 General facilities on board the Blue Train.
Important Pre-Departure Information
Guests are kindly requested to check in one hour prior to departure. Check-in takes place in The Blue Train VIP lounges situated at Cape Town and Pretoria stations.
Suite Facilities
The room amenities that guests get to enjoy are individually controlled air-conditioning, remote-controlled television monitor, DVD player and DVDs, telephone, room-safes and hairdryers. The television monitor is concealed above the wardrobe. The entire train offers complimentary wi-fi.
Safes
Safes are provided in all suites. While every precaution is taken, The Blue Train cannot be held liable for items left unattended in suites.
Luggage
It is advisable to pack an overnight case for the journey as only a limited amount of luggage can be stored in your suite. Your butler will store additional baggage in the luggage van. Although great care will be taken, we recommend that you take travel insurance to cover any eventuality.
Electricity
The electric supply on board is 220 volt. Light switches are located at the door and the bed-side table.
Telephone Service
The telephone in your suite will allow you to dial the manager or a butler 24 hours a day. Should you wish to make an external call, please contact the Train Manager or your butler, who will gladly assist you. The cost of your external calls and faxes are not included in the fare.
Laundry
Limited on board laundry and valet service is available to ensure that The Blue Train guests look their best for dinner. Please contact your butler for assistance.
Dining
All meals and snacks are included in the fare. Should you require a snack please contact your butler. Lunch and dinner are usually served in two sittings, while breakfast is at your leisure.
Special Dietary Requirements
Kindly specify any special dietary requirements at the time of booking.
Drinking Water
It is advisable that The Blue Train guests do not drink water from the tap. Bottled water is supplied in each suite. Your butler will provide you with more on request.
Dress Code
The stylish luxury of The Blue Train is conducive to dressing up for dinner. Evening wear is elegant for ladies and gentlemen are required to wear jacket and tie. For other meals, the dress code is casual.
Lounges
The lounge car is designed as a meeting place for pre or post lunch and dinner drinks. Afternoon tea is also served in the lounge car while the club car is ideal for a postprandial cognac or cigar. The bar opens as soon as the train commences its journey and closes when the last guest departs. All drinks are included in the fare, except for certain imported beverages which can be purchased from your butler.
Smoking
Smoking is only permitted in designated suites and the Club Car. The lounge and dining cars are smoke-free zones.
First Aid
Trained first aid personnel are on-board at all times. In the event of an emergency, doctors and emergency personnel can be contacted at the various stations en-route.
Gift Shopping
Jewellery pieces, souvenirs and various gifts are available for sale in The Blue Train Boutique on the train.
Gratuities
Guests who wish to show their appreciation may leave a gratuity in the box located in the lounge car, at the end of the journey. Gratuities are shared on a points system among The Blue Train personnel on board.
Visas
Your travel agent or tour operator will advise you regarding visa requirements and also assist you in obtaining the necessary visa documentation.
Technicians
Two engineers always accompany The Blue Train to ensure a trouble-free journey at all times. They will happily share their technical knowledge with train enthusiasts.
The Train Manager
The Train Manager is on call at all times. Please do not hesitate to contact him should you require assistance or information pertaining to your journey.
Languages
South Africa has 11 official languages. English is widely spoken and understood.